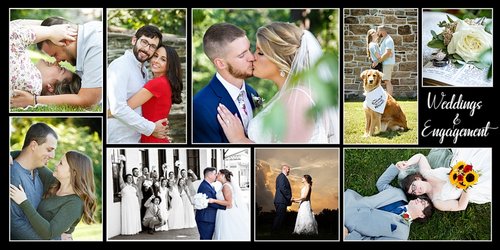 Wedding Photography
(Click on the links at the bottom of this page to print this information.)
A little girl's dream come true - her wedding day. Keep this dream alive forever in pictures. We work with you to plan and organize your wedding day so your portriat sessions run smoothly. We enjoy sharing in the excitement of your special day and capturing those moments in pictures.
Basic Wedding Package: $1995.00
Included with your package:
*20 years experience
*Free pre-wedding consultation
*Personalization of your wedding photos to meet your individual needs
*Personalized photo schedule for your wedding day
*Up to seven to nine hours of professional photography time
*Professional studio on location upon request
*Professionally edited portrait prints and digital high resolution files will be available for purchase through our studio for an additional fee
*Price includes two full time photographers and a third photographer during the ceremony
*Password-protected website gallery for viewing and ordering online. The online gallery will be available to you for 30 days following your wedding
*Unlimited number of pictures recorded
*One hour indoor engagement portrait session; enlargements sold separately;
*One hour indoor first anniversary portrait session; enlargements sold separately;
*When available, one of our staff members will attend the dress rehearsal to prepare for the big day!
*11x14 professionally edited wall portrait
*Two 8x10 professionally edited wall portraits
*Thumb drive of all high resolution professionally processed and light corrected images with copyright release (images may be enlarged to your choice of size without loss of quality)
*We offer an average of a one week turnaround time to receive your thumb drive of beautiful pictures
*We post a sneak peak of 10-20 low resolution images to Facebook within two days of your wedding
*A three minute wedding day slide show - beautiful photo recap with short video clips inserted at the photographer's discretion. (please ask to view a sample)
Additional Add-On Options:
A. Photo booth: $175.00 for the first hour and $100.00 each additional hour; Minimum of two hour rental per event.
B. 30 Professionally edited high resolution images: $600.00
C. $30.00 per image - professionally edited, digital high resolution files
D. Parent's album: 20 - 4x6 prints, black album with gold trim: $145.00
E. 40 page, 10x10 professional wedding album - black with gold trim; cameo: $850.00 (includes 50-75 edited images)
F. Each additional hour of photography coverage will be charged at $150.00 per hour
G. 55 cents per mile will be charged to weddings outside a 30 mile radius of the studio.
H. Upgrade your indoor engagement or one year anniversary session to an outdoor/off-site portrait session for $60.00 I. Custom announcements, save the dates, and invitations available upon request
**Complete list of albums, canvas prints, printed portraits, etc. available upon request
**Client is responsible for calling the studio to schedule appointments and meetings
Photo Booth
Cost: $175 per hour for the first hour and $100 for each additional hour
*Minimum 2 hour rental is required per event
*$50.00 discount offered if you hire Leer Photography as your wedding photographer as well!
**Click here to download our Base Wedding Package information
**Click here to download our add-on options
**Click here to download our customized wedding options

**Click here to download our current enlargement/digital image price list
**Click here to view testimonials from our 2021 Brides
**Photo Booth Information